Athens CSIO5*-W 2019
The FEI Division 2 Longines Nations Cup Final in Athens!
Markopoulo, Ferbruary 5th, 2019
Press Release
The Hellenic Equestrian Federation took over the LONGINES FEI Jumping Nations Cup Division 2 Final on July 25-28, 2019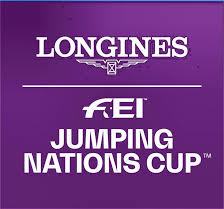 On Monday, January 28th the International Equestrian Federation - FEI - endorsed the relevant claim file of the Hellenic Equestrian Federation and assigned the organization of the most important Nations Cup event in 2019 for Europe Division 2. Top European jumping teams along with the Greek team will compete at the CSIO5 * -W, that belongs at the highest category of international events, the five-star event, which is organized for the first time in Greece at the Olympic Equestrian Center in Markopoulo, the four-day 25-28 July.
In addition to the biggest prize money provided by LONGINES international sponsor, CSIO5 * -W teams will claim their qualification for the World Cup Final and for their participation in the TOKYO 2020 Olympic Games, while at the individual level riders are claiming a points for the World Cup and the World Ranking LONGINES. Along with CSIO5 * -W, two international csis will be held, a two-star CSI2 * and a CSIYH1 * for young horses, which are also expected to host numerous international and national entries.
The Hellenic Equestrian Federation is proud to undertake the organization of such a great and prestigious event, that will attract the attention of our country to the world of equestrian sport and the lights for a whole week, while the Olympic Equestrian Center in Markopoulo is again a top destination for international events of the highest level, with a wealth of synergies and side benefits for the sport and the economy.
From the Hellenic Equestrian Federation