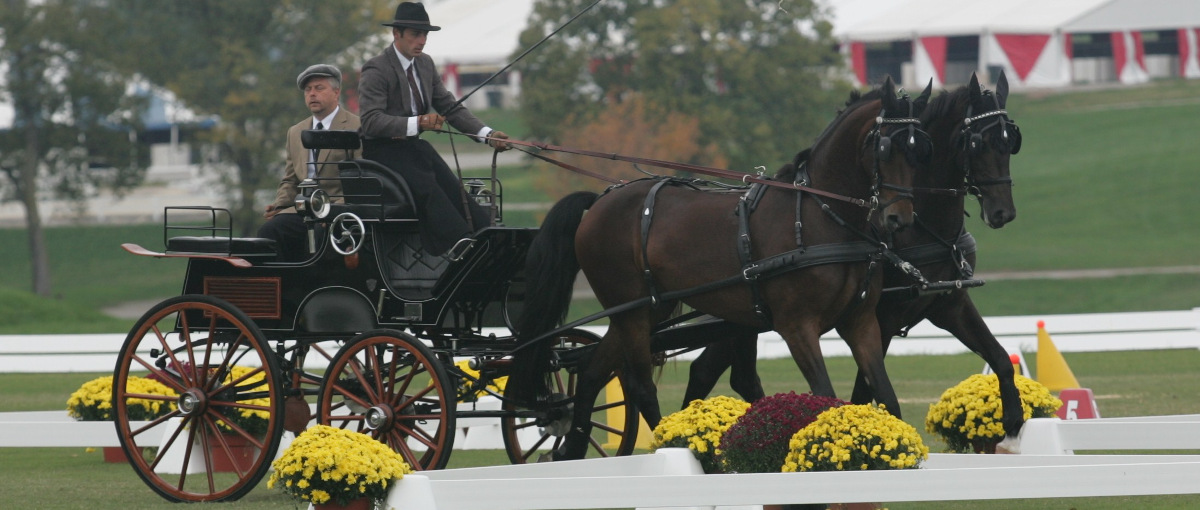 Driving
Description
Horses were driven long before they were ridden. As vehicles have eliminated the need for horses as a primary form of transportation, Driving has turned into a fast-growing sports discipline".
What is Driving?
Driving, which became an FEI discipline in 1970, is the oldest competitive equestrian sport. It is a discipline without riders; instead drivers sit on a vehicle drawn by a single horse or pony, a pair or a team of four. Modern Driving competitions consist of three phases:
Dressage: A sequence of compulsory figures performed within a 100 x 40m rectangle. The smoothness of the manoeuvres, the obedience of the horse, impulsion and positioning are assessed. Click here for a full explanation of Dressage.
Marathon: A truly spectacular trial, the marathon is a course
over a maximum of 18km, which includes natural hazards such as
sharp turns, water and steep hills as well as constructed obstacles.
Obstacle Driving / "Cones": This tests the fitness and suppleness of
the horses after the marathon. To successfully negotiate the cones
course, drivers must weave cleanly through a narrow track outlined
by cones with balls balanced on top.
Main competitions
FEI World Equestrian Games
FEI World and Continental Championships
FEI World CupTM Driving Series